Event Schedule - RSVP TODAY
Bowls are priced $5 Kids, $10-$20 Adult
2:00 - Gallery door opens, Pick 'n Buy your bowls, Donations for Drinks & Silent Auction Upstairs
2:30 - Chili Cook-Off Begins
Live Music by Jackson Pianos, Sample Chili, Fill your bowl, Vote for best Chili, Place your bids on Silent Auction items.
4:00 - Voting ends for best Chili
4:15 - Silent Auction Closes
4:30 - Chili Winner Announced
Check-out for Silent Auction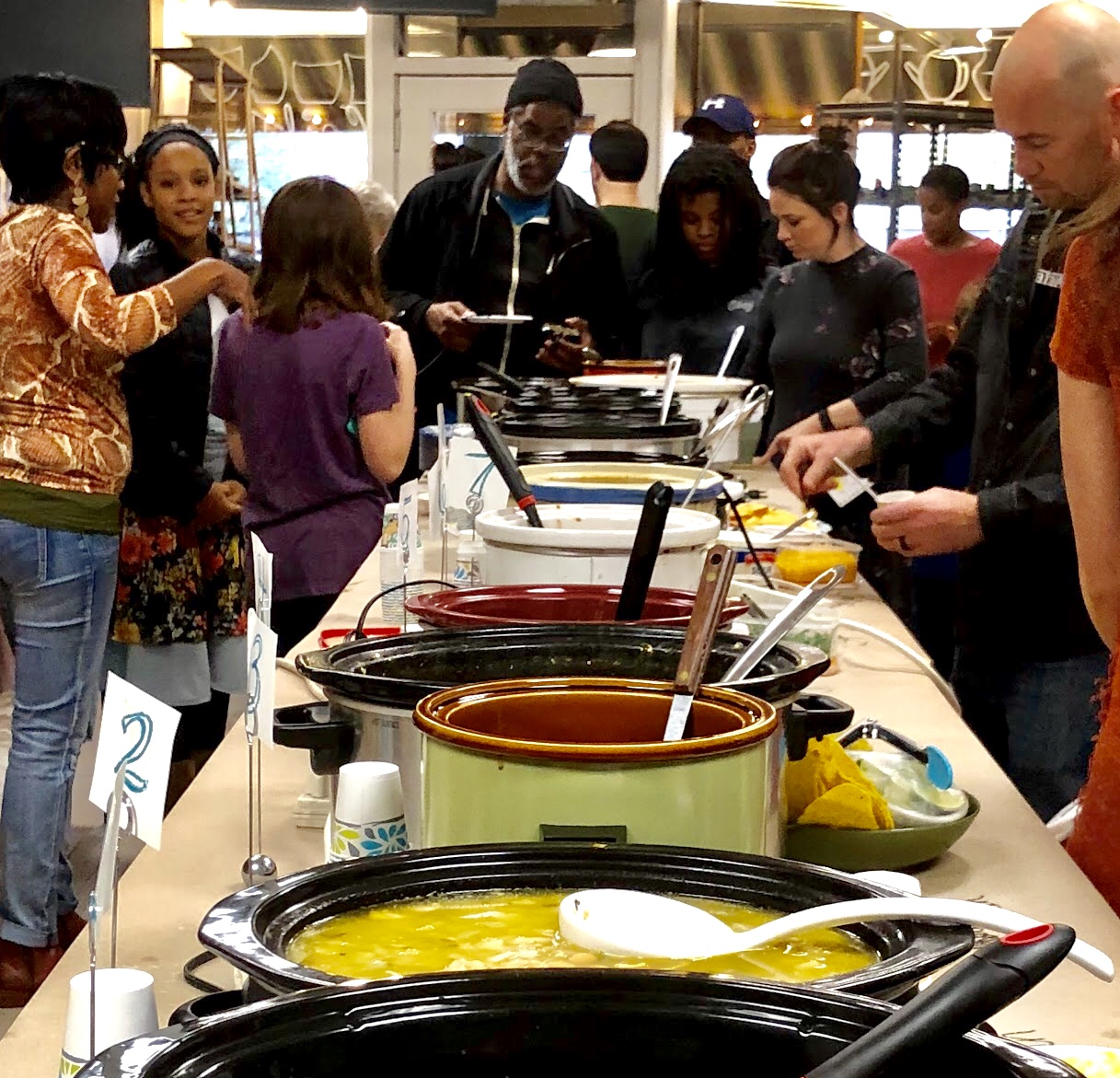 Event Details
 We are still taking entries for the Chili Cook-Off. 1st, 2nd, 3rd, place prizes. Click here to enter.

Gorgeous bowls for sale by local artists!

Raise money for a great cause and bid on Silent Auction Items from some awesome local StL businesses.

LiVe music by Jackson Pianos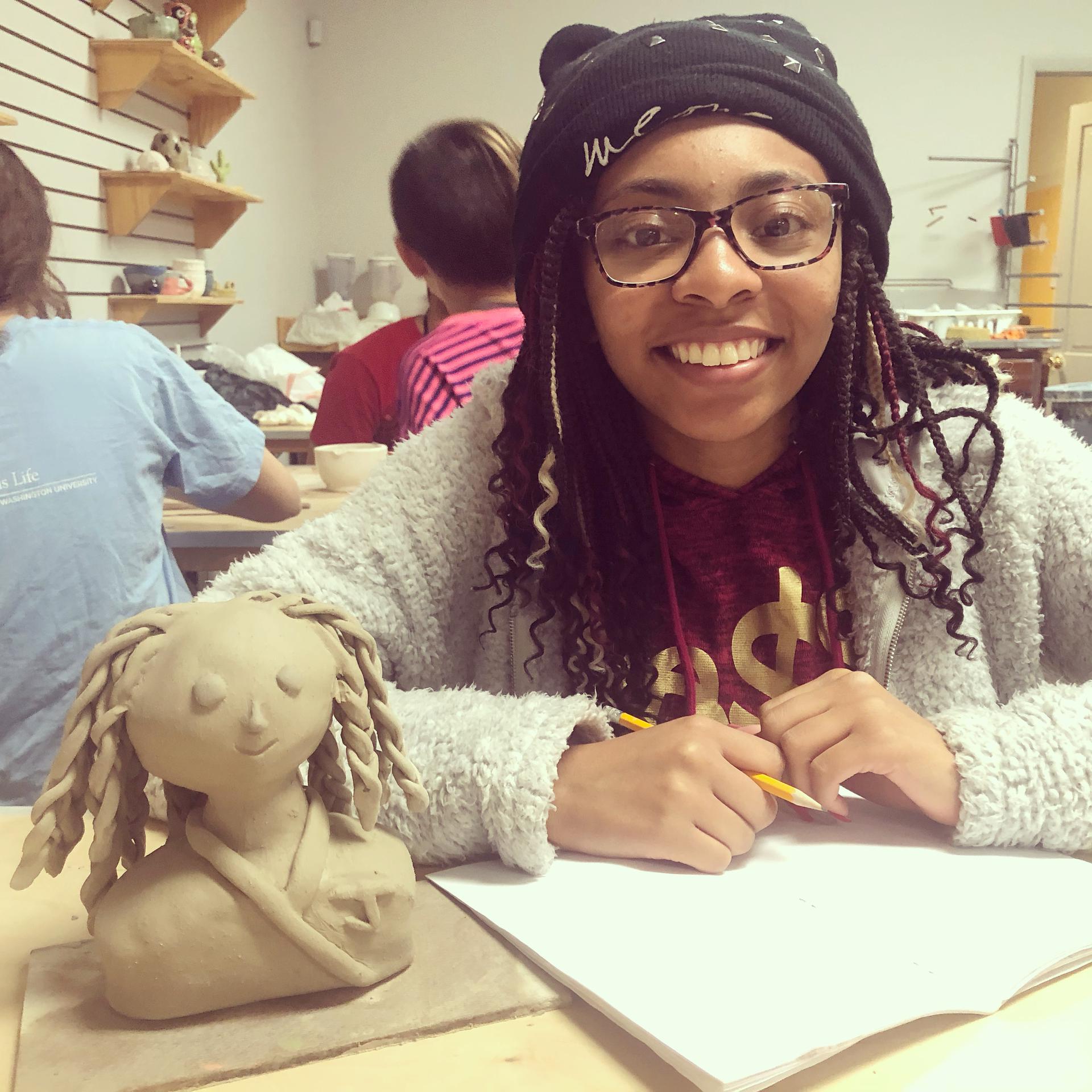 More about GAP Girls Project
In the 2020-2021 year of programming we will be putting girls and young women at the center of a more "girl- centric" way of learning how to enhance their own lives and community through art while also becoming apprentices, leaders, activists, and future entrepreneurs.  Help us spread the word and forward to girls and young women and invite them to attend on March 8th and to apply!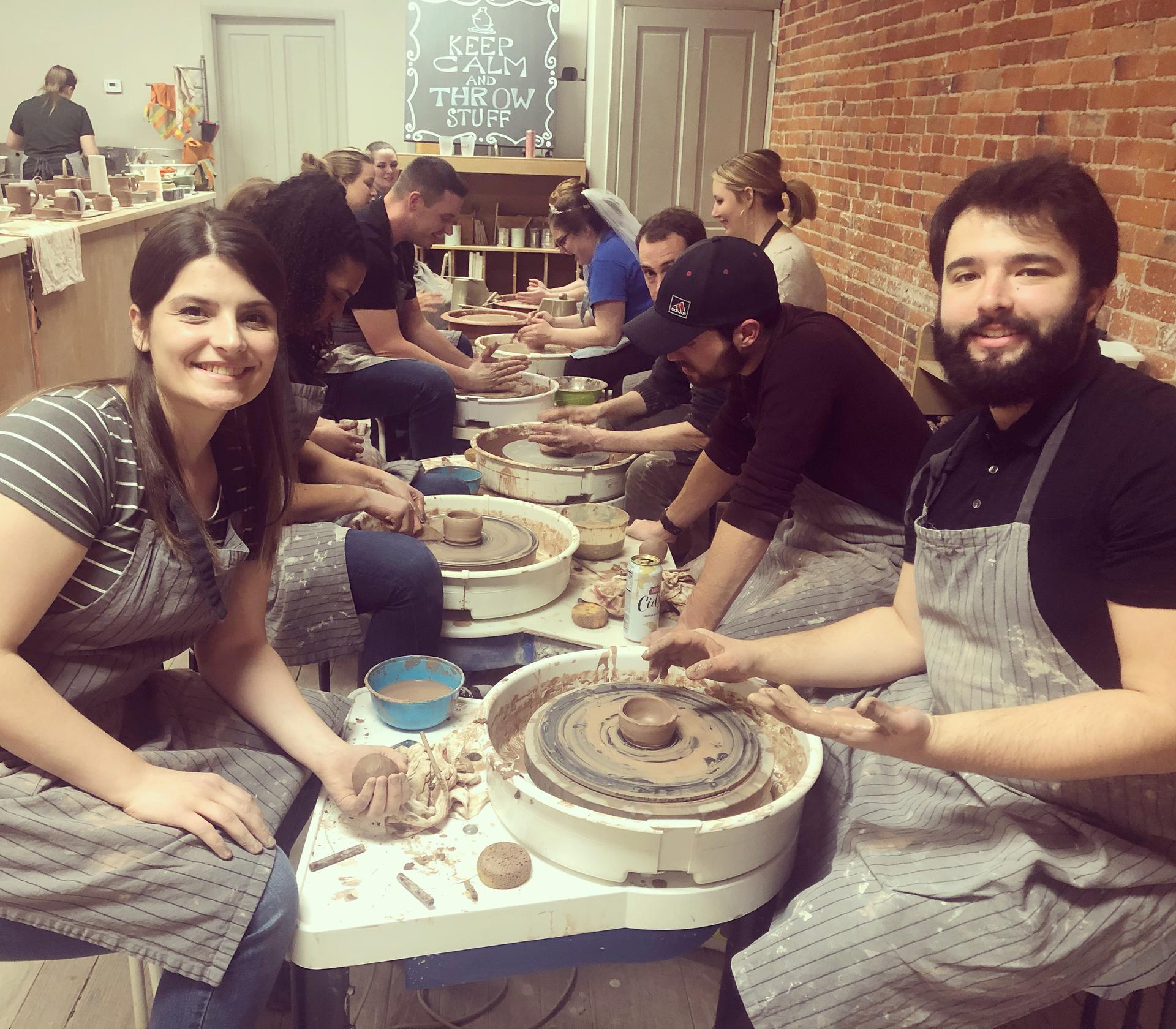 Clay Date Nights...
Spring & Summer Registration
It's time to sign-up for Spring and Summer Clay Date Nights! Clay Date Night is weekly every Saturday from 7-10pm and is $50 per person and is BYOB. You will get a crash course on the potters wheel and make some really cool small cups and bowls. Space is limited and classes will fill, so sign-up soon and check off that bucket list!
click here to sign up
BYOB MaKe-A-Mug Workshop
Thursday or Friday Nights @7:30pm
You can buy a two hour pass and MaKe-A-Reservation to the BYOB MaKe-A-Mug Workshop. You design it, and we will show you all the steps of how to make it! If you don't want it to be a mug it an be a cup, bowl, succulent planter or trinket jar. Students are welcome to bring their own drinks, snacks, and beverages too! click here to sign up
BUY a Drop-In Pass or Make-A-Reservation
We have a new button on our web site to MaKe-A-Reservation at Open Workshop! We still seat walk-in students and you can BUY-A-Drop-In-Pass here. If you have 4 or more people in your group it is recommended to MaKe-A-Reservation in advance. Please remember all students must have a pass to enter the pottery studio. We invite others to wait in the reception area or drop-off and pick-up. HOURS: Thurs & Fri 4-10 | Sat & Sun 12-5
Open Workshop is closed next Sunday March 8th for the Empty Bowls & Chili Cook-Off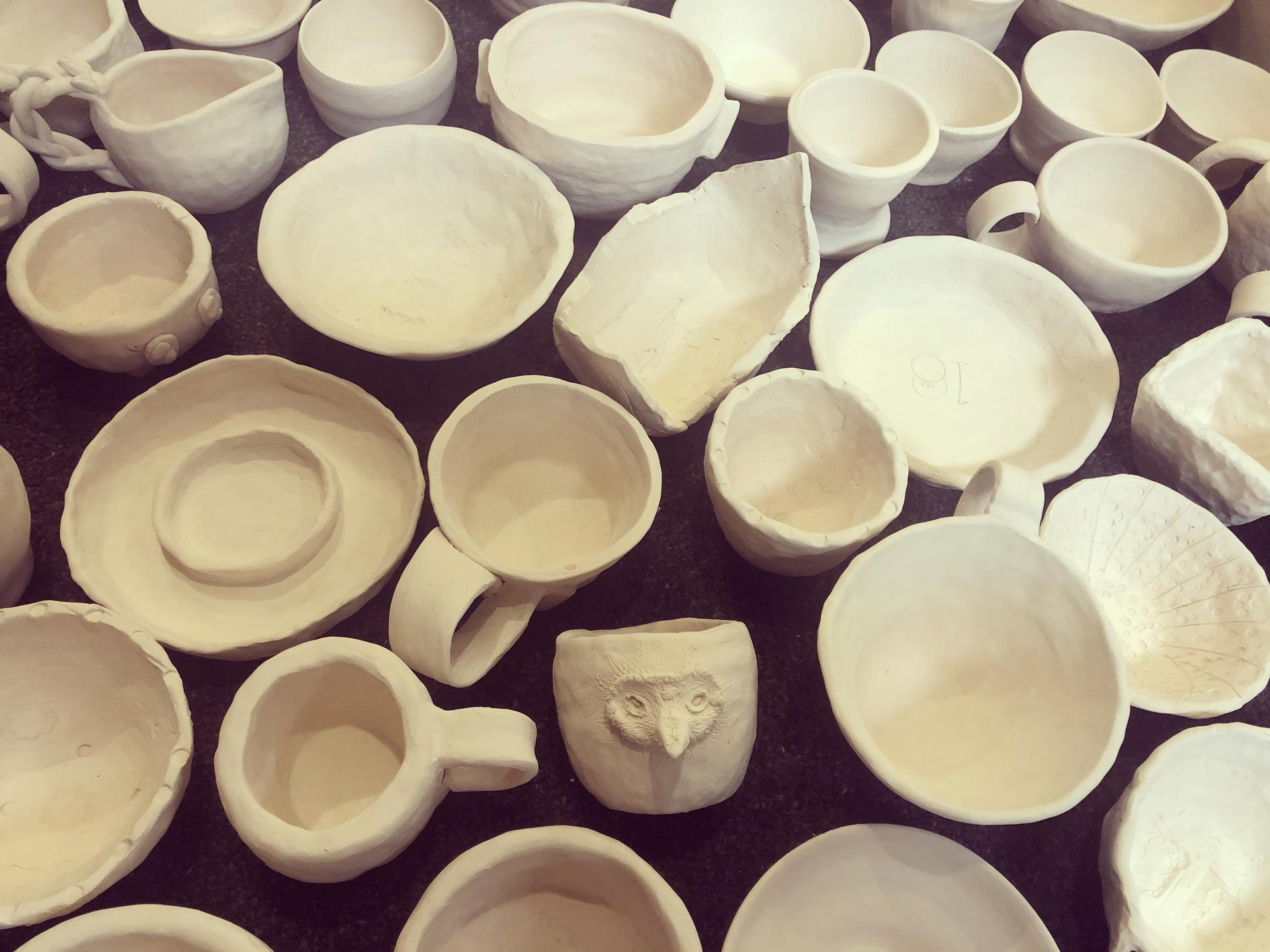 Pottery Pick-Up Notes
Come and get your pottery people! We keep glazed pottery for 1 year. We only keep unglazed pottery for 6 months. We want you to have your wonderful creations so please come and get them before they are gone! If you have visited the studio recently and are wondering if your pottery is ready, click here to check.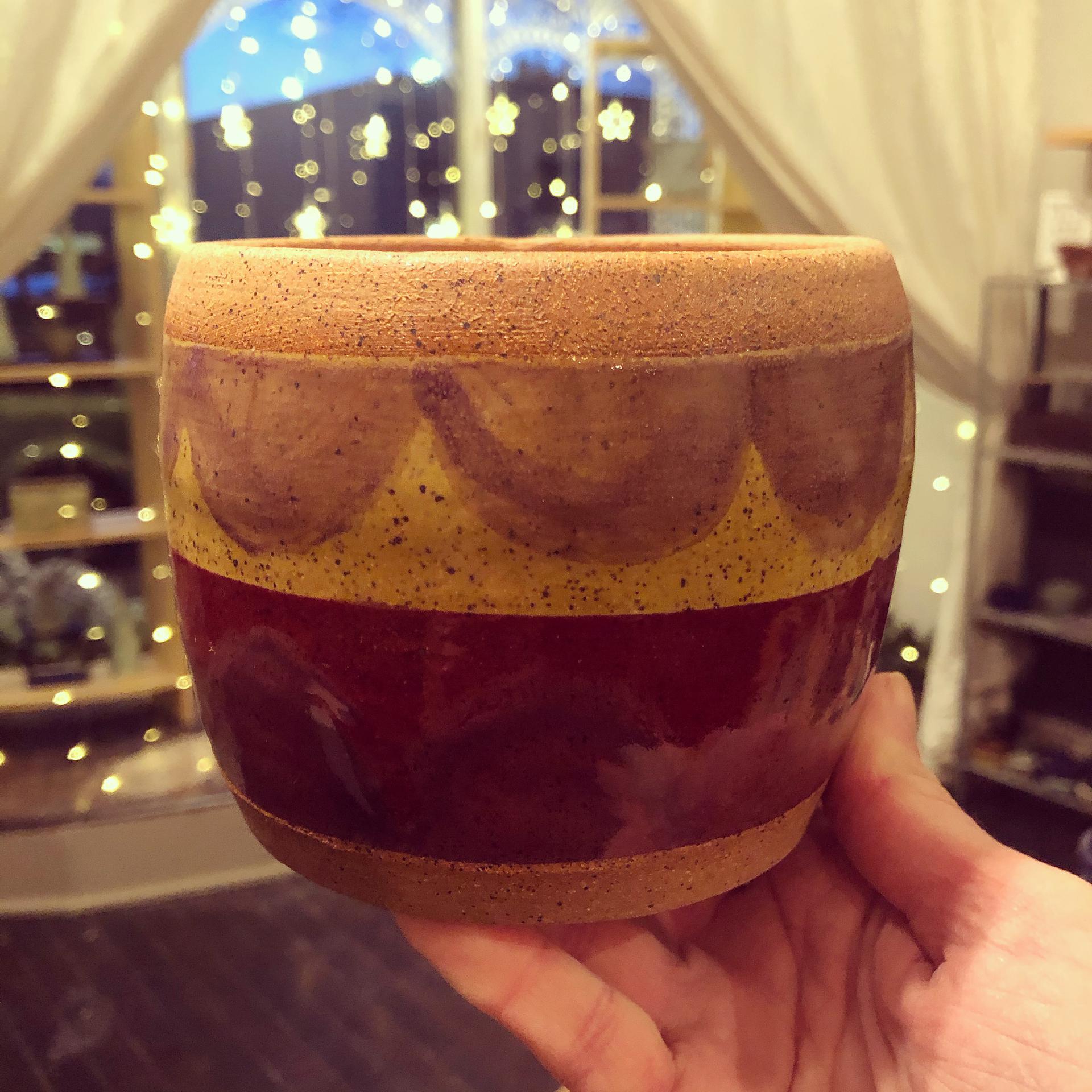 New Glaze Colors and Combos
We've got some new glaze colors and we think your gonna like 'em! How does "Smokey Merlot", "Lustrous Jade" or "Indigo Float" sound to you? We have lots of brush-on colors that can be inter-mingled and layered. We have also discontinued our Wunder-glaze line of colors and replaced them with Celadons which are transparent-like glazes that can also be layered to show off small details and crackles below the surface! You can also get tons of variation with the same color by just alternating white clay or speckled clay.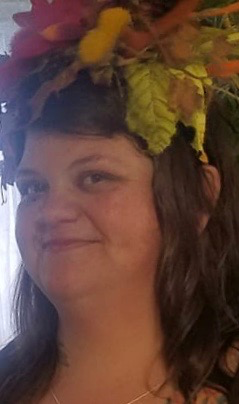 New Instructor Spotlight
Meet our newest instructor at SBAP....
Sonia Dae Slankard has an Associate of Fine Arts, emphasizing in ceramics from East Central College in Union, Missouri. She worked as a teaching artist for over a decade serving up clay in Art City, at The City Museum. Her Passion is for Community engagement, and you can often find her working in the Art Lab at Thomas Dunn Learning Center. Her Primary objective is to empower her students to think for themselves. She finds great joy in playful experimentation and she believes there is an artist inside of everyone!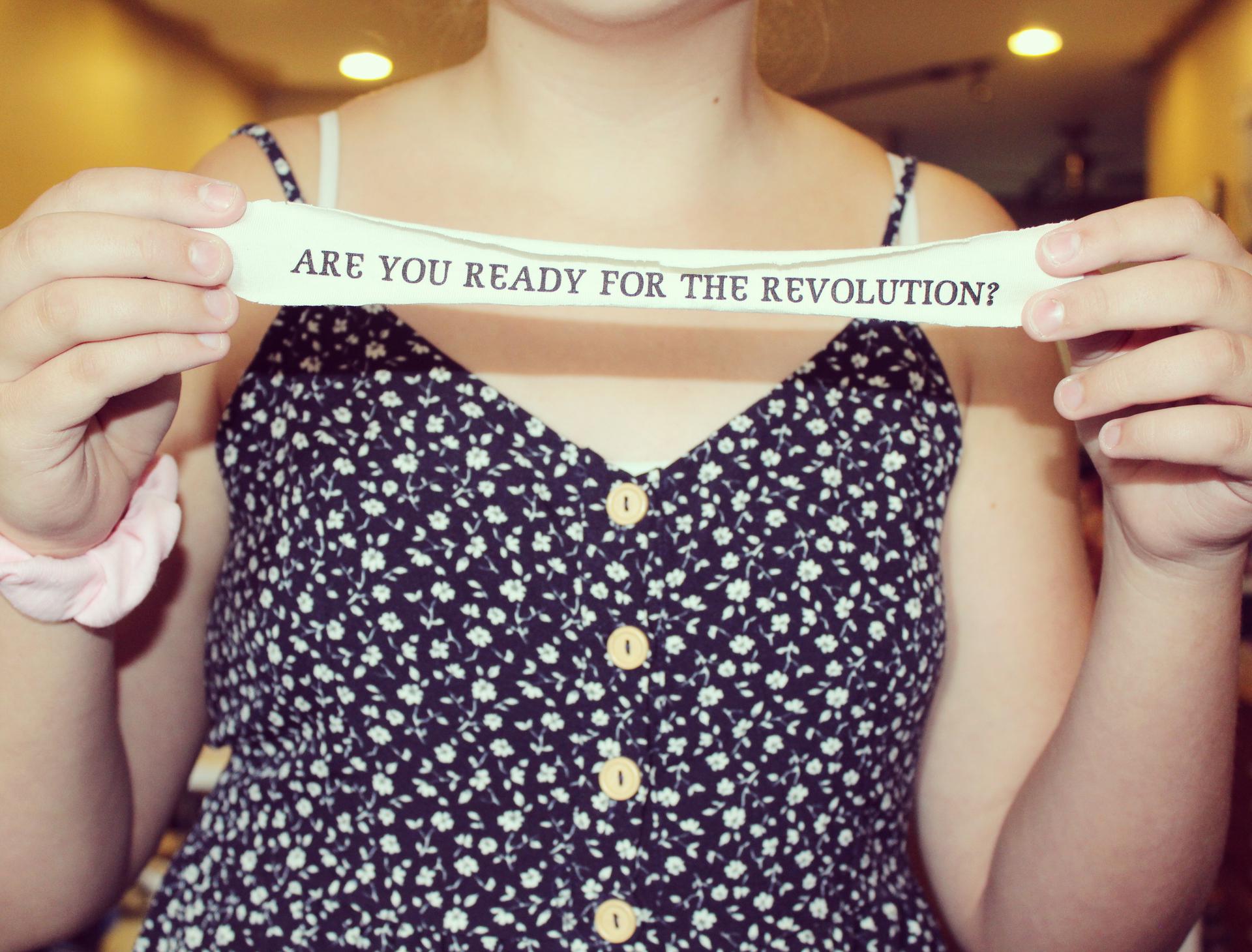 More about GAP Girls Project...
The purpose of GAP Girls Apprenticeship Project is to empowHER and teach girls and young women ages 10-18 how to become "change makers" and "thought leaders" through apprenticeship in the arts. GAP currently offers studio experiences in pottery as well as sewing and design. Click here to apply
We have consciously set out to create a new model of community agency, creating a studio culture that values creativity and experimentation, while putting girls and women, children and families at the center of community volunteerism, development and revitalization. GAP Girls Apprenticeship Project is a totally unique way for SBAP to equip girls and young women to find the power of their voice as artists, activists, and entrepreneurs. So many girls and young women that otherwise would not have the chance have it here at South Broadway Art Project. Help us close the GAP and grant more arts-based opportunities for GiRLs Today! Click here to MaKe-A-Donation Today
2020 Calendar
Winter
Jan 16 - March 22
Spring
April 
Summer
July 4, 5, 6
Fall
July 8 - Aug 24
Closed 
Aug 29-31
Fall
Sept 5 - Dec 21
Closed
Halloween & Thanksgiving Day
2020 Events
Empty Bowls & Chili Cook-Off
Sun March 8 | 2-5pm 
Ice Cream Social & Art Show
Sun May 17 | 2-5pm
Summer Pop-Up Shops Begin
 June TBA
Plant-A-Pot-Grow-A-Girl & Flea Market
 Sun Aug 2 | 2-5
Walk-A-thon & Block Party
Sun Oct 4 | 11-2 
Small Business Saturday
Sat Nov 28
Holiday Shop Fundraiser
Sat Nov 28 - Sun Dec 20
Thank YOU to our 2020 Donors, Program & Event Sponsors