POTTERY -

Wednesday - Friday 12-7pm, Saturday 10-4pm

Bring your ideas and we will guide you through the processes of handbuilding...

FASHION PROJECT -

Thurs

&

Friday 12-7pm, Saturday 10-4pm

Bring a pair of oldie but goodie jeans to re-design! Students who do not bring

jeans will design jean wrist bands or bootie cuffs.




PAINTING & DRAWING -

Wednesdays 12-7pm

"STRAIGHT UP, JUST DRAW & Paint!"


This session will focus on a new idea every week teaching you everything you ever wanted to know about how to draw and paint!
COME TO OPEN STUDIO ONCE-A-WEEK, ONCE-IN-A-WHILE, OR EVERYDAY!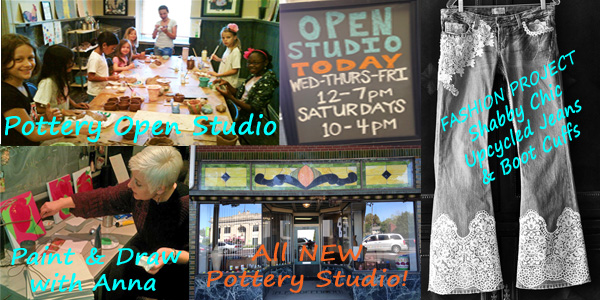 September DEAL




Come to Open Studio during the month of September and we will GIVE you an hour back for free for every hour you stay, pay, and work... You can use your hours the next time you come back or let them accumulate and use them by 12/21/13.

NEXT WEEK!





"ONCE UPON A RUNWAY!"


I

n partnership with

Saint Louis Fashion Week!



10/6 KOKEN ART FACTORY 2pm





FREE

FASHION PROJECT AFTER SCHOOL - APPLY TODAY: We prioritize students for placement in this program based on need, and motivation.





South Broadway Art Project, 3816 South Broadway, Saint Louis, Missouri 63118